Recommended Settings
Check out the recommended graphics settings for the best balance of performance and visuals.
XIV on Mac Visual Setup Guide
Q: How can I obtain the Base32 secret required for Auto-OTP?
The Base32 secret is displayed when you set up OTP on your Square Enix account. However, if you set this up before using XIV on Mac, you might be able to obtain this from the TFA app you're using to generate one time codes.
For instance, 1Password will show you the OTP:// value you paired with, and you can find the Base32 part in that string.
If the Base32 value is no longer accessible, you can remove and re-add OTP on your Square Enix account to have a new Base32 secret generated.
XIV on Mac saves this value in the macOS Keychain, which provides high security while allowing you to view this value yourself in the future. It is saved under the "secure.square-enix.com" entry.
Q: Is XIV on Mac safe?
Yes. We take special care to emulate the login flow and user agent of the official client so that the login servers are not able to tell that a third party launcher is in use. 
Launcher Security
The XIV on Mac project and its various components are open source. You can view all our code on GitHub at https://github.com/marzent/XIV-on-Mac. Login credentials are only sent to FFXIV servers and never transmitted anywhere else.

All releases are signed by a Developer ID and notarised by Apple. You can read more about the app notarisation process on the Apple Developer page.

Furthermore, all updates are signed by a Sparkle EdDSA key to verify authenticity.

If you choose to save your credentials, XIV on Mac makes use of the macOS Keychain to securely store your password.
Platform Security
App downloads and updates are served by our updater service, softwareupdate.xivmac.com. This service might sometimes be used to proxy and cache downloads to certain external files to prevent users from being rate limited.

A separate service is used for centralised management of web content and app updates, content.xivmac.com. This service is only accessible to XIV on Mac staff and all accounts have time-based two-factor authentication enforced.

Both platforms described above run on a highly-available Kubernetes hosting cluster. Administrative access to the cluster is authenticated via mutual TLS, using a certificate/private key pair automatically generated during cluster creation. The required network policies have also been set up to further isolate the XIV on Mac workloads within the container network, which ensures integrity even in the event of a cluster security breach.

In addition, XIV on Mac may reach out to the following external domains:
github.com - used to download Anamnesis and GShade
kamori.goats.dev - used to download and update Dalamud
www.iinact.com - used to update IINACT
You can read more about Dalamud security here.
Responsible Disclosure
Think you've found a security vulnerability in XIV on Mac or one of our web properties? Please disclose it to us privately using the contact information found here.
False Positives
XIV on Mac makes use of Wine in order to run Final Fantasy XIV. As a result, some third party anti-virus applications may flag it as malware by mistake. This is an ongoing and well documented issue within the Wine community:
Some examples of third party anti-virus software include AVG, Avast, Bitdefender, Microsoft Defender ATP, and CleanMyMac. We will not be able to provide support if any third party anti-virus software is in use as it often damages app components, resulting in unexpected behaviour.
As described earlier, XIV on Mac app bundles are notarised by Apple, who check submitted apps for malicious content. macOS also includes a built-in, first party anti-virus that behaves correctly and does not false flag Wine based applications. Read more here.
Q: Does XIV on Mac accept donations/crowdfunding?
While we are incredibly grateful for your offers of support, we do not accept direct financial contributions. However, you can help us out by boosting our Discord server, assisting users in support channels or spreading the word.
Q: How do I find the launcher settings menu?
With the launcher selected, in your top menu, click "XIV on Mac", and then "Preferences". Here you will find the FFXIV settings, Dalamud, Wine, Social and DXVK settings.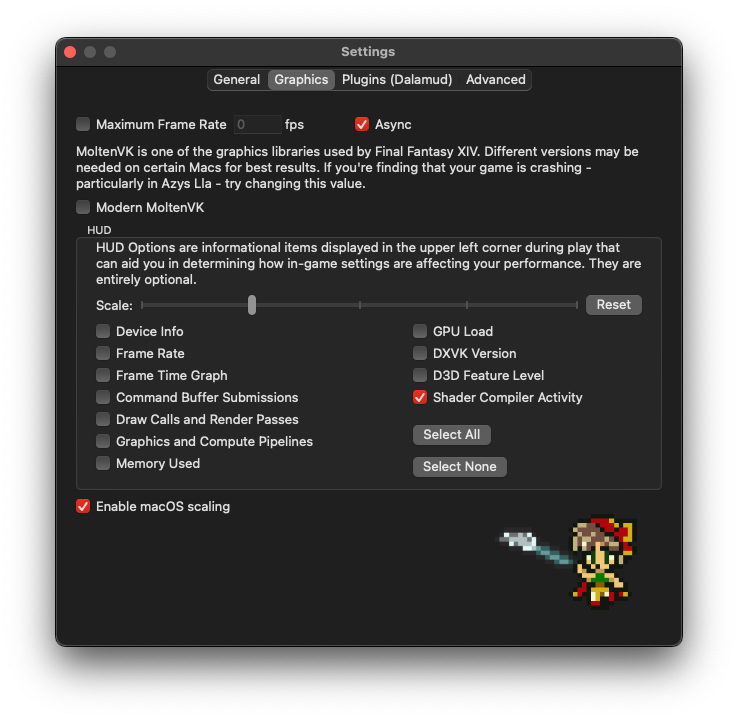 Q: Where do I find my XIV on Mac install folder?
The install folder can now be accessed easily from top menu by clicking "File" and "Open Install Folder" while the launcher is focused.
The XIV on Mac install folder contains FFXIV game data folder, FFXIV Config, Dalamud, Wine Prefix, Logs, etc.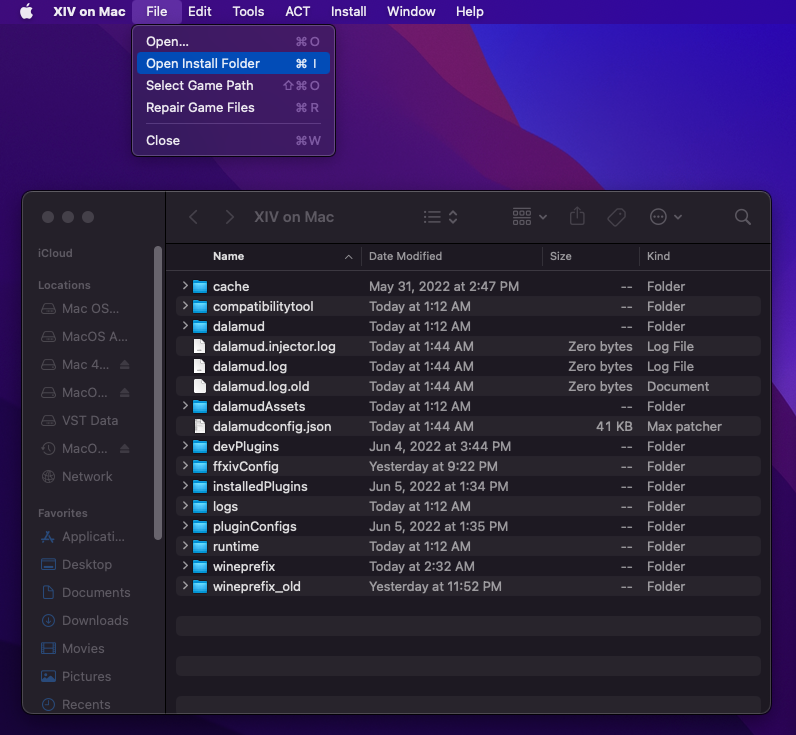 Q: Why is my game not loading?
Due to how complex XIV on Mac's launching process is, there could be multiple reasons the game couldn't launch. The most common one is 3rd party Anti-Virus software deleting/quarantining important Wine files which are needed for FF14 to run. ISP issues/Networking issues, Mod issues including unsupported Dalamud plug-ins are also common reasons here. As there isn't always an easy fix to every problem, our recommendation is to use one the support channels in the XIV on Mac Discord. We will be able to better assist you through analyzing your debug logs.
Q: How can I improve performance on my Mac with an AMD GPU?
Due to a lack of Metal driver updates for legacy (Intel-based) Macs, users on some 500 series and lower end 5000/6000 AMD graphics cards may experience inconsistent frame pacing or stuttering.
To work around this, you can place a special configuration file within XIV on Mac's install folder which will enable some internal settings to improve performance. Follow these steps:
Download this config: dxvk.conf
Open XIV on Mac launcher, focus the launcher window and press "CMD+I"
Open the "wineprefix" folder in the Finder window that appears.
Navigate into the "drive_c" folder, and place the downloaded "dxvk.conf" file inside.
Restart the game and launcher to apply the settings.
Q: Why does my game have black textures?
If you are using a FFXIV Windows license, and run on Max in-game settings, you may experience black textures in game similar to the image below.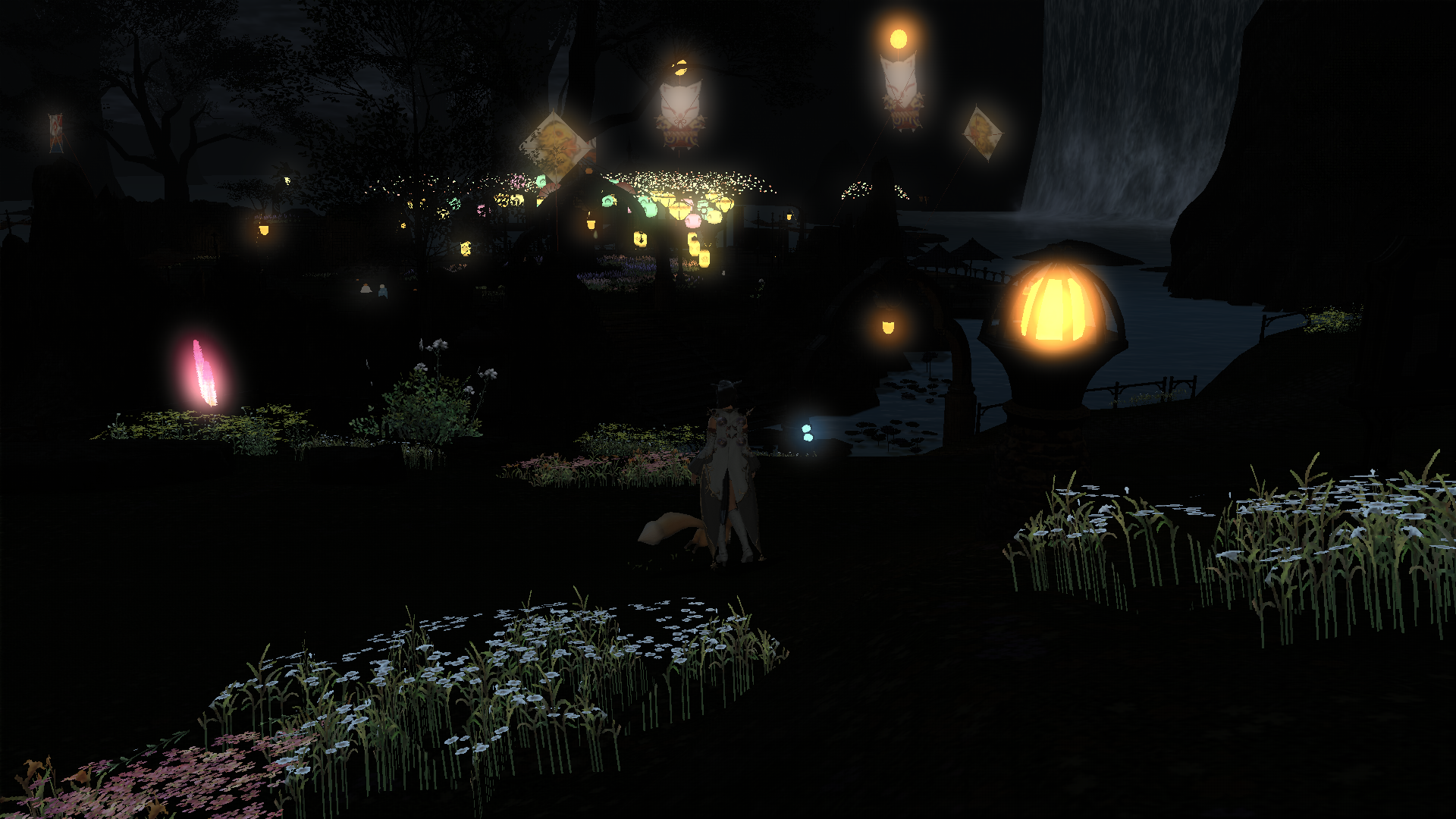 To fix this issue, press the "Escape" key, go to "System Configuration" and then "Graphic Settings" icon. Scroll down until you see "Screen Space Ambient Occulusion". You will then need to turn this down to "Strong", "Light", or "Off". HBAO+ settings will not work properly in MacOS.